PACE E SALUTA !
On behalf of G.Events, I wish you a Happy New Year 2022 !
We invite you to follow us for beautiful and new projects.
I take these good wishes to sincerely thank you for your loyalty throughout our digital or on-site programming.
Stéphanie Girard
Welcome to the G.Events.com website.

We remain at your entire disposal for :
* Business provider
* Communication for artists, associations, companies
* Event creations
* Exhibition
* Organization of auctions

All the events of your life, supported by a single provider!
Do not wait any longer and book now.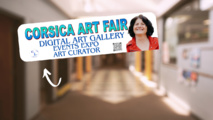 Stéphanie GIRARD: Founder of G.Events.
The Executive Director, Stéphanie GIRARD, began in 1994 as an intern in the production office of the street theatre company "Les Plasticiens Volants" in Lavaur.
In 1999, she created a cultural association at AJACCIO, A.C.I.B., (Cultural Association of the Isle of Beauty) in partnership with UNESCO.
Numerous projects have been carried out on the island and on the continent.
In 2015, she founded an art agency.
Since then, organizer of 3 art fairs including two with POINT ART FAIR – BUSINESS ART, art curator for many exhibitions, charity auction, concerts,.
https://www.youtube.com/channel/UC4Vx_xlMqMOb8idA3h8fGTQ/videos
Videoclip
Arti Di Natale, group exhibition of island artists organized by G. Events will take place from December 1 to 30 from 3 p.m. to 6:30 p.m. at the Sainte-Lucie Chapel - 79 Cours Napoléon at AJACCIO.
About ten works on the Nativity in painting will be presented.
At the same time, a book fair will take place from December 6 to 12 from 10 a.m. to 6.30 p.m.
Free entry !
Contact phone: 0623734352 - 0611514842
Design and production of the french poster : Isabelle ALEGRE


When we apply the mind to something as simple and as innocent as painting a watercolor, we forget a little of the anguish that arises from our belonging to a world gone mad.
Henri Miller
G. Events are organizing a new online exhibition on the various digital platforms, AQUARELL'ARTS from 01 to 28/02/2022.
Closing date for registrations: 25/01/2022
For further information:
Mail: contact@gs-event.com
Phone. : 06.23.73.43.52.
Past Events :


All types of abstract arts, design, digital, strange, intuitive, show what would be unusual at a time of their research, here is the challenge to launch to artists by G. Events.. Abstraction in art is opposed to figurative and narrative representations, it results from expressive forms and not representative forms.. With regard to the history of art, very ancient cultures have touched on abstraction, whether in India or among the Amerindian peoples.. The term «abstraction» can also refer to the various abstract arts that characterize modern art from the beginning of the 20th century.
Thanks to the participating artists : BRAHAM Baron, KOUKOUI Marine, LAURENT Victoria, MARTINETTI François.

Online Gallery :
Video Clip :
Art crosses things, it goes beyond the real as well as the imaginary. Paul Klee
It's summer, little or not at all well-known island and mainland artists are exhibiting their works on different digital platforms.
Most of the works are for sale.
For further information:
Mail: contact@gs-event.com
Phone: 06.23.73.43.52.
Thanks to the participating artists: ALFONSI Jean - LALLEMAND Agathe - MATHIEU Christelle - ZANNI Joseph
Online Gallery :
Video Clip :
:



Musica Colori, colori della musica, music in all its forms.

G.Events is organizing a new exhibition - online sale of artworks on digital platforms from 1 to 30 June 2021.

It's colorful, everyone will find his happiness.

Enjoy your visit !


Online Gallery :
Video Clip :
Sometimes wild or domestic, extraordinary or ordinary, threatened or protected, shunned at certain times and then magnified, shaped by the action of the hand of the human being or left to itself ... the vision of nature is plural and its conception specific to each.
The course of history, cultures, beliefs, societies and the improvement of knowledge have not ceased to multiply the interpretations and the views that we have on a world called natural.
Reciprocally, these various representations of nature continue to cross the societies themselves by inspiring arts, culture, human activities, architecture, and the living environment.
Here is the video of the exhibition .
Online Gallery :
Video Clip :