Happy New Year !
This year has been full of novelties, with exhibitions of sacred art in churches, at the Napoleon Bonaparte airport in Ajaccio, the enhancement of heritage thanks to the restoration project of the Chapel of Santa Lucia in AJACCIO, for this always convince, without forgetting of course, the Corsica ART FAIR, at Lazaret Ollandini, the Marc Petit Museum and the new design of the website that we have made more practical thanks to the richer virtual galleries.
The new year is already approaching and we will continue to propose increasingly relevant events to better meet the expectations of artists and the public.
G.Events wishes you a happy new year !
Call for Performers
G.Events are pleased to welcome you at the 1st Spring Fair which will take place from 19 to 21 May, with Rémy ARON as honorary patron, and thus extend the International Museum Day at the Lazaret Ollandini - Marc Petit Museum.
G.Events thank Mr François Ollandini, for his unfailing support to the artists.
Paule Dumon : Carving - Exhibition Digital Plateform
The sculpture gives soul to the marble.
Chateaubriand
Artist, writer (1768–1848)
New online exhibition on different digital platforms from 1/01 to 28/02/2023
G.Events thanks the talented sculptor Paule DUMON for her collaboration.
Mixed of his creations and holographic editing on our side.
Gallery
Art & Essay - Paris
January is an elegant month, celebrating its 31st to celebrate a new beginning, a rebirth. Art & Essai, a new concept organized by G.Events, is investing in the Thuillier Gallery 13 rue de Thorigny 75003 PARIS for the occasion from 06/01/2023 to 19/01/2023, another way to express the desires of artists in January with a new audience to celebrate exhibition 2023.
Open from Monday to Saturday from 1:00 p.m. to 7:00 p.m.
Opening: Tuesday, January 10, 2023 from 6:00 p.m. to 9:00 p.m
Participation of island artists: Nita Bertaudiere - Catali - Marie-Céline Chottin - Jocelyne Durand - Annaïck Fougeray - Mariedo Ferracci Mougin - Rose Passalboni Giudicelli.
Emerging Parisian artist : Christelle MATHIEU
Glad to welcome you.
Heartfelt.
Stephanie Girard
Arti Di Natale
2nd edition Arti Di Natale, collective exhibition of island artists organized by G.Events will take place from 19/12/2022 to 04/01/2023 from 10 am to 4 pm, Saint Roch Church - 29 Cours Napoléon in Ajaccio.

About fifteen works on the Nativity in painting will be presented.

Admission is free !

Contact : Stéphanie GIRARD : 0623734352

G.Events would like to thank Father Tomei for his welcome and the participating artists: Ina Agostini, Nita Bertaudière, Marie-Céline Chottin, Rose Passalboni Giudicelli, Mario Sepulcre and Pierre Vellutini.
Discovery Art Expo
Last exhibition 2022 of Anne Clace Galerie.
Discovery, artistic renewal, panorama of emerging island artists, come and meet them.

Corsican Artists Presented:
Marie Baldovini, Catali, Jocelyne Durand, Annaïck Fougeray, Marie Dominique Ferraci-Mougin, Rose Passalboni Guidicelli, Xaviere Moretti-Coppola.
" Culuri Di Corsica "
Saturday October 22 from 10 a.m. to 7 p.m. at Ajaccio Napoléon Bonaparte Airport, the artists and G.Events, we are waiting for you at the bar, for a coffee, but not only...
New concept of G.Events, Art & Essai, collective exhibition, the time of a meeting, a day in an unusual place.

See you on October 22 at Ajaccio airport, in front of the bar.
Creazione
New collective exhibition of in situ artists on a biblical theme, organized by G.Events at the Chapelle Sainte-Lucie - 79 Cours Napoléon in Ajaccio, from October 1 to 15, 2022 from 2:30 p.m. to 7 p.m.
Participation of Pierre - Saint-Roch Church - Private collection - 29 Cours Napoléon - Ajaccio.
At the beginning... then the men came with the time of the harvests and the harvests, between agricultural work, painting, literature, rituals of yesterday and today, it is an opportunity to talk about the rural world, ever-active spirituality.
FREE ENTRANCE !
Thanks to the participating artists: Marie Bo - Marie-Céline Chottin - Christelle Mathieu - Anne-Marie Odier - Pierre Veluttini
Outside the walls: Christine Arnoux - Valérie Dragacci - Jocelyne Durand - Annaick Fougeray
Goodbye !
Corsica Art Fair 2022
The Corsica Art Fair has closed its doors. More than 1,600 people came to discover or rediscover the site during the European Heritage Days.
More than twenty works sold by island artists selected to be exhibited directly at the Galerie Anne Clace while waiting for the Salon de l'Art Corse in the Sarthe. Thanks to François and Marie-Jeanne Ollandini for their trust and this beautiful moment of sharing with the public, the Municipality of Ajaccio for the logistical support, the partners Air Corsica, Corse-Matin, RCFM, the plastic arts giant. David-André Azoulay Sponsor of the event, all the participating artists and of course you, the public.
See you in 2023 !
We are delighted to welcome you during the second contemporary art fair, creators, and designate "Corsica Art Fair" which will take place from 16 to 18/09/2022 at the Lazaret Ollandini - Marc Petit Museum - Aspretto District during the European Heritage Days, sponsored by David André Azoulay, President of the Georges V International Group, (patron of the arts).
On the program
:
Friday 16 September 2022 : Musical opening with the Dea Group
Saturday, September 17 from 5 p.m.:
Musical animation guitar sounds with Alain Colonna and Jean-Baptiste Ambrogiani
Friday, September 16, 2022 from 2:30 p.m. to 10 p.m.
Saturday 17 and Sunday 18 September 2022: 10 a.m. to 8 p.m
.
Demonstration of cutlery, modeling of sculptures, collective exhibition of artists, ceramists, sculptors,
Photographers.
Guided tour of the site by François Ollandini : Saturday 17 - Sunday 18 September 2022 at 3 pm
Free admission !
Contact: Stéphanie Girard : 06 23 73 43 52
This fair presenting a large number of artists, creators, in Corsica and on the Continent, the organizers propose to de-combine art, crafts, design, business and humanitarian action. Reaching out to the general public is one of the ambitions of this human-scale show.
The quality of the works, the animations proposed allowed Corsica Art Fair to appear as an unmissable event in AJACCIO, for an audience of amateurs, collectors and professionals.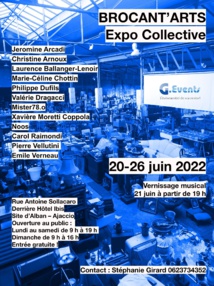 Brocant'Arts
Before a shed used as a depot for the buses of the city of Ajaccio, currently a garage used as a flea market which continues today, from 20 to 26/06/2022 "Brocant'Arts".
New collective exhibition of artworks organized by G.Events located in an atypical site, industrial architecture of 1930, in the heart of the city center with a space of 1000 m2.
Jeromine Arcadi - Christine Arnoux - Laurence Ballanger - Lenoir - Marie-Céline Chottin - Philippe Dufils - Valérie Dragacci - Mister78.o - Xavière Moretti-Coppola - Noos - Carol Raimondi - Pierre Vellutini - Emile Verneau.
Here are the artists participating in the event.
From June 20 to 26, 2022, we expect you to discover a hundred creations, monumental works, including one of 4 meters by 4 meters, sculptures and photography.
A vernissage with musical entertainment followed by records on demand will be proposed, with artistic performances, on June 21, 2022 from 7 pm, Rue Antoine Sollacaro - Behind Hotel Ibis - Site d'Alban.
Open to the public: Monday to Saturday from 9 am to 7 pm and Sunday from 9 am to 4 pm
Tel : Stéphanie Girard - 0623734352
See you soon
Photo&Conception Izabel Barsive.
Visual artist, professor UOF, Uottawa, Mentor, video editor, producer, DP

Translated with www.DeepL.com/Translator (free version)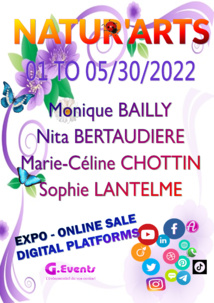 Natur'Arts : Digital Arts Exhibition


Air, sea, land, nature spoils us.
It is what nourishes us, inspires us, amazes us.
G.Events is organizing for the second consecutive year, a new exhibition from 05/1 to 30/2022, as part of the national nature holiday, Natur'Arts, on the various digital platforms.
Contact: email: contact@gs-event.fr - Tel: 06 23 73 43 52
Thanks to the participating artists: Monique Bailly, Nita Bertaudière - Marie-Céline Chottin - Sophie Lantelme.
Website: https://www.gs-event.fr
https://www.artsteps.com/view/61ec43e4a5d48c752f934adf
https://youtu.be/UtlXxQt09D4
Pasqua Di L'Arti - The sacred arts exhibition April 2022
Digiral exhibition - Aquarell'Arts - Gallery
Videoclip Aquarell'Arts
Welcome to the G.Events.fr website.
We remain at your entire disposal for :
* Business provider
* Communication for artists, associations, companies
* Event creations
* Exhibition
* Organization of auctions
All the events of your life, supported by a single provider!
Do not wait any longer and book now.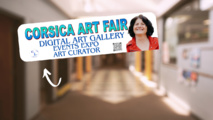 Story :
Stéphanie GIRARD: Founder of G.Events.
The Executive Director, Stéphanie GIRARD, began in 1994 as an intern in the production office of the street theatre company "Les Plasticiens Volants" in Lavaur.
In 1999, she created a cultural association at AJACCIO, A.C.I.B., (Cultural Association of the Isle of Beauty) in partnership with UNESCO.
Numerous projects have been carried out on the island and on the continent.
In 2015, she founded an art agency.
Since then, organizer of 3 art fairs including two with POINT ART FAIR – BUSINESS ART, art curator for many exhibitions, charity auction, concerts,.
https://www.youtube.com/channel/UC4Vx_xlMqMOb8idA3h8fGTQ/videos
Arti di Natale in Aiacciu - December 2021
Arti Di Natale, group exhibition of island artists organized by G. Events will take place from December 1 to 30 from 3 p.m. to 6:30 p.m. at the Sainte-Lucie Chapel - 79 Cours Napoléon at AJACCIO.
About ten works on the Nativity in painting will be presented.
At the same time, a book fair will take place from December 6 to 12 from 10 a.m. to 6.30 p.m.
Free entry !
Contact phone: 0623734352 - 0611514842
Design and production of the french poster : Isabelle ALEGRE