Upcoming events :
We are delighted to welcome you during the second contemporary art fair, creators, and designate "Corsica Art Fair" which will take place from 16 to 18/09/2022 at the Lazaret Ollandini - Marc Petit Museum - Aspretto District during the European Heritage Days, sponsored by David André Azoulay, President of the Georges V International Group, (patron of the arts).
On the program
:
Friday 16 September 2022 : Musical opening with the Dea Group
Saturday, September 17 from 5 p.m.:
Musical animation guitar sounds with Alain Colonna and Jean-Baptiste Ambrogiani
Friday, September 16, 2022 from 2:30 p.m. to 10 p.m.
Saturday 17 and Sunday 18 September 2022: 10 a.m. to 8 p.m
.
Demonstration of cutlery, modeling of sculptures, collective exhibition of artists, ceramists, sculptors,
Photographers.
Guided tour of the site by François Ollandini : Saturday 17 - Sunday 18 September 2022 at 3 pm
Free admission !
Contact: Stéphanie Girard : 06 23 73 43 52
This fair presenting a large number of artists, creators, in Corsica and on the Continent, the organizers propose to de-combine art, crafts, design, business and humanitarian action. Reaching out to the general public is one of the ambitions of this human-scale show.
The quality of the works, the animations proposed allowed Corsica Art Fair to appear as an unmissable event in AJACCIO, for an audience of amateurs, collectors and professionals.
Creazione : New exhibition on sacred art
New on-site exhibition organized by G.Events at the Chapelle Sainte-Lucie - 79 Cours Napoléon in Ajaccio, from 1 to 15 October 2022.
At first... then came men with the time of the Harvest and the Harvest, between agricultural work, painting, literature, rituals, yesterday and today, it is an opportunity to talk about the rural world, spirituality still in activity.
Nomination file : contact@gs-event.fr
Registration closes : 31/08/2022
See you soon !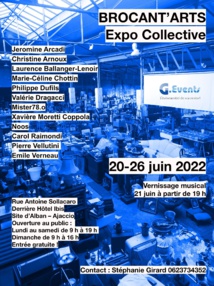 Past events : Brocant'Arts
Before a shed used as a depot for the buses of the city of Ajaccio, currently a garage used as a flea market which continues today, from 20 to 26/06/2022 "Brocant'Arts".
New collective exhibition of artworks organized by G.Events located in an atypical site, industrial architecture of 1930, in the heart of the city center with a space of 1000 m2.
Jeromine Arcadi - Christine Arnoux - Laurence Ballanger - Lenoir - Marie-Céline Chottin - Philippe Dufils - Valérie Dragacci - Mister78.o - Xavière Moretti-Coppola - Noos - Carol Raimondi - Pierre Vellutini - Emile Verneau.
Here are the artists participating in the event.
From June 20 to 26, 2022, we expect you to discover a hundred creations, monumental works, including one of 4 meters by 4 meters, sculptures and photography.
A vernissage with musical entertainment followed by records on demand will be proposed, with artistic performances, on June 21, 2022 from 7 pm, Rue Antoine Sollacaro - Behind Hotel Ibis - Site d'Alban.
Open to the public: Monday to Saturday from 9 am to 7 pm and Sunday from 9 am to 4 pm
Tel : Stéphanie Girard - 0623734352
See you soon
Photo&Conception Izabel Barsive.
Visual artist, professor UOF, Uottawa, Mentor, video editor, producer, DP

Translated with www.DeepL.com/Translator (free version)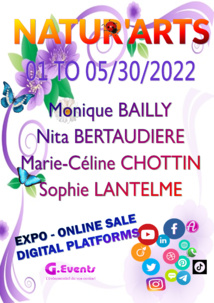 Natur'Arts : Digital Arts Exhibition


Air, sea, land, nature spoils us.
It is what nourishes us, inspires us, amazes us.
G.Events is organizing for the second consecutive year, a new exhibition from 05/1 to 30/2022, as part of the national nature holiday, Natur'Arts, on the various digital platforms.
Contact: email: contact@gs-event.fr - Tel: 06 23 73 43 52
Thanks to the participating artists: Monique Bailly, Nita Bertaudière - Marie-Céline Chottin - Sophie Lantelme.
Website: https://www.gs-event.fr
https://www.artsteps.com/view/61ec43e4a5d48c752f934adf
https://youtu.be/UtlXxQt09D4
Pasqua Di L'Arti - The sacred arts exhibition April 2022
Digiral exhibition - Aquarell'Arts - Gallery
Videoclip Aquarell'Arts
Welcome to the G.Events.fr website.
We remain at your entire disposal for :
* Business provider
* Communication for artists, associations, companies
* Event creations
* Exhibition
* Organization of auctions
All the events of your life, supported by a single provider!
Do not wait any longer and book now.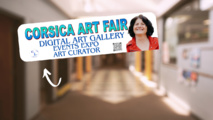 Story :
Stéphanie GIRARD: Founder of G.Events.
The Executive Director, Stéphanie GIRARD, began in 1994 as an intern in the production office of the street theatre company "Les Plasticiens Volants" in Lavaur.
In 1999, she created a cultural association at AJACCIO, A.C.I.B., (Cultural Association of the Isle of Beauty) in partnership with UNESCO.
Numerous projects have been carried out on the island and on the continent.
In 2015, she founded an art agency.
Since then, organizer of 3 art fairs including two with POINT ART FAIR – BUSINESS ART, art curator for many exhibitions, charity auction, concerts,.
https://www.youtube.com/channel/UC4Vx_xlMqMOb8idA3h8fGTQ/videos
Arti di Natale in Aiacciu - December 2021
Arti Di Natale, group exhibition of island artists organized by G. Events will take place from December 1 to 30 from 3 p.m. to 6:30 p.m. at the Sainte-Lucie Chapel - 79 Cours Napoléon at AJACCIO.
About ten works on the Nativity in painting will be presented.
At the same time, a book fair will take place from December 6 to 12 from 10 a.m. to 6.30 p.m.
Free entry !
Contact phone: 0623734352 - 0611514842
Design and production of the french poster : Isabelle ALEGRE